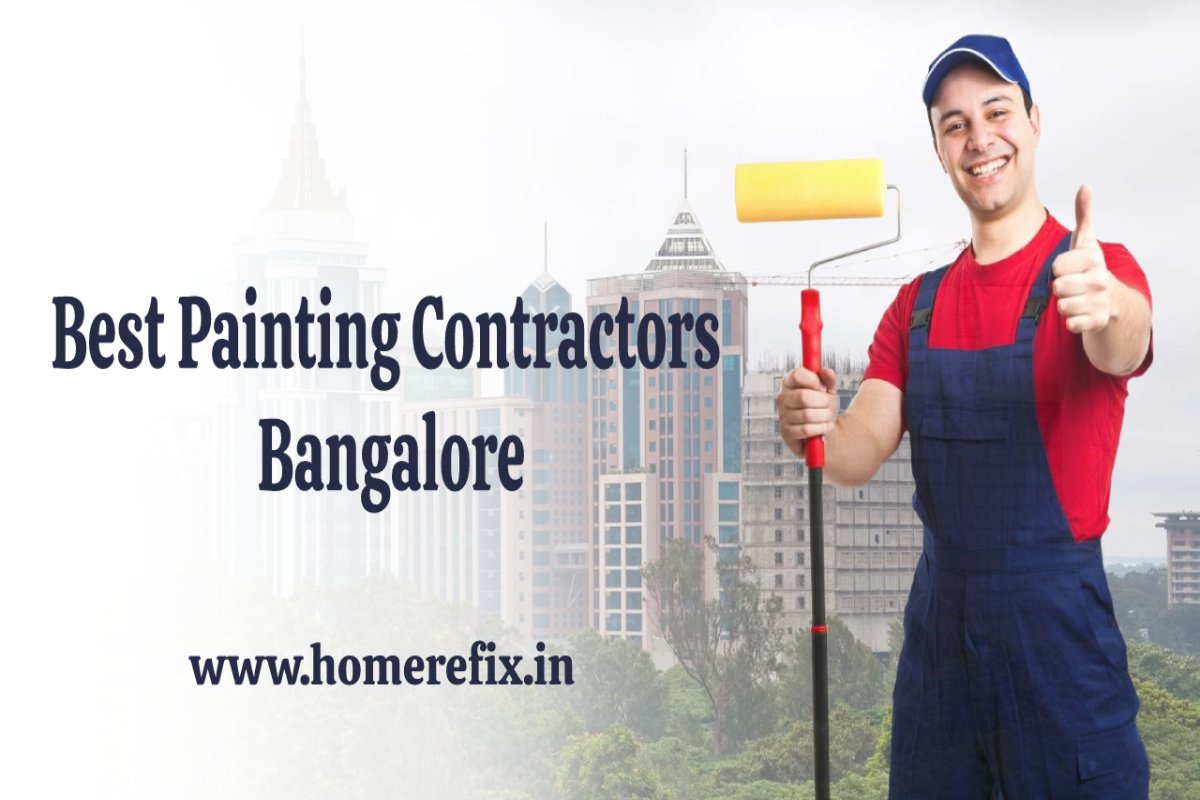 Choose the best painting contractors in Bangalore?
Painting changes the way your home looks instantly. It adds value to your house, sets the right vibe and enhances the aesthetics at the same time. If you too are getting an irresistible urge to paint the house yourself, this is a sign that you shouldn't. 
Painting requires accuracy, skills and a lot of effort. Also, painting is a job that needs to be done right in the first go itself as it is an expensive job for sure. 
Choosing the right painting contractor for your home or business can be a daunting task. A bad painting job can lead to a lot of frustration and wasted time and money. 
On the other hand, a good painting contractor can transform the look of your property, increase its value, and provide you with peace of mind. Here are some tips to help you choose the best painting contractor for your requirements. 
Get recommendations
Firstly, start by looking for painting contractors who already worked for your friends or family. This is the easiest way of trusting a contractor as you can know everything about them. From looking at their work to the timeline of the project, you can get a deeper insight into the working style of the contractor. 
Ask friends, family members, and colleagues for recommendations. Ask your loved ones about suggesting someone based on your budget and other requirements. 
Review credentials
Checking the credentials of the contractor is a crucial aspect. Ensure that the information being shared with you is correct. Apart from the portfolio, you can even ask the contractor to share the documents with you for your satisfaction. Look for a contractor who is licensed, insured, and bonded. This will protect you in case of any accidents or damages during the painting process. 
Make sure that you are asking the right questions like: Does the contractor have a proper license? Are they a part of any professional association? Do they offer any sort of guarantees or warranties? Such information will help you in making an informed decision quickly. 
Schedule consultations
One-on-one consultation with the painting contractor can tell you a lot about their working style. Talk to them in detail about what you want to understand if your thoughts match or not. Observe if they are suggesting ideas that are for your overall good or not. Choosing the right painting contractor can give you tremendous results. 
Schedule consultations with at least three contractors to compare quotes, get a feel for their level of professionalism, and see their portfolios. Never finalise the deal on the spot and do your research about them beforehand. 
Ask for references 
Apart from the portfolios, it is always better to look at the contractor's work in real. You can see the finishing of the work and know about the contractor in detail about their references. A reputable contractor should be able to provide you with a list of references. 
Contact these references to ask about their experience with the contractor and the quality of the work they performed. If the contractor is hesitant in sharing this information, it is a major red flag. 
Experience matters the most 
Always consider experienced contractors as they have a lot to bring to the table. From refreshing ideas to innovative designs, you can rely on their experience. Look for a contractor who has experience in painting homes or buildings similar to yours. 
Ask about their experience with the type of paint and materials you're interested in using. Experienced professionals will always give you spot-on information, take precautions and offer you a detailed study of the project. 
Get a detailed quote
Before getting the quote, ensure that there is no hidden fees involved once the contract gets finalised. This is a common way of spamming people and you can end up with major losses.
 Make sure you receive a detailed quote that includes all costs, such as labor, materials, and any additional services. Ask about the payment schedule and any warranties or guarantees that are included. Read about the agreement in detail and see to it there is nothing shady about it. 
Discuss the timeline
Go for contracts who are certain about finishing the project in time. Most of them will say yes to your timeline before starting the work but will end up taking much more time. Discuss the timeline for the project with the contractor. 
Make sure they are able to complete the job in a timely manner and that they have a plan in place if there are any unexpected delays. See to it that in case of any delay, there are no extra charges involved.
Communication is the key 
Find a contractor who is easy to communicate with and responsive to your questions and concerns. A good contractor should be transparent and open throughout the entire process. Moreover, while it's important to stay within your budget, it's also important to choose a contractor who provides high-quality work. 
Don't choose a contractor simply because they offer the lowest price, as this could mean they are cutting corners. 
Lastly, read online reviews about the contractors. If you think something is fishy, do not entertain them and move to the next contractor. It is always better to have multiple choices. Also, check legitimate internet reviews and if someone seems too good to be true, it is a red flag. Ask someone about the contractor online to get unfiltered reviews about them. Doing extensive research makes sense, after all, painting is a job that is done once in years and it should be done right in the first go or else, you would have to pay a lot more. 
Final Words 
By following these tips, you can ensure that you choose a painting contractor who is reliable, professional, and capable of delivering high-quality results. Remember to take your time, do your research, and make an informed decision to ensure that your painting project is a success.